Hercules Tire Offers Commercial Power Program for Dealers
January 31, 2018
---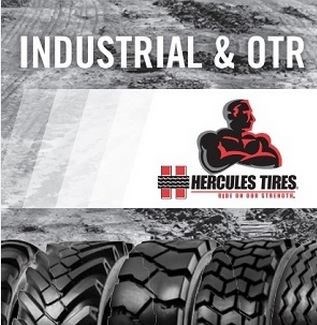 Program rewards purchases of medium truck, OTR and industrial products
FINDLAY, Ohio, Jan. 31, 2018 – Hercules Tire announced today the Hercules Commercial and Industrial Power Program (HCP) for dealers of Hercules brand medium truck tires and Hercules/Hercules by Solideal branded specialty commercial tires. The program is available to all American Tire Distributors (ATD) customers.

"We want to continue our mission of exceeding customer expectations, by offering a program to reward dealers' success, helping them to accomplish their goals," said Jedd Emans, vice president of marketing, Hercules Tire. "We expanded our commercial line-up with industrial and OTR tires last year, so we now have a robust foundation for this new program."

The HCP program offers dealers motivation to build sales by earning annual volume bonuses and other incentives, one of which is a trip for two to a tropical destination. Dealers may commit to one of four levels within the program to maximize their earning potential.

This program is offered exclusively through ATD. Interested dealers can contact an ATD representative or visit herculestire.com/hcp-program to learn more.

About Hercules Tires
Hercules Tires is widely recognized as the industry's premier value brand with a comprehensive selection of passenger, UHP, light truck, medium truck, specialty trailer and specialty commercial tires. Since 1952, independent tire dealers and distributors have trusted Hercules to deliver outstanding quality, exceptional support and unsurpassed value.
Hercules is a wholly owned subsidiary of American Tire Distributors, Inc. American Tire Distributors is one of the largest independent suppliers of tires to the replacement tire market. It operates over 140 distribution centers, including 27 distribution centers in Canada, serving approximately 70,000 customers across the U.S. and Canada. The company offers an unsurpassed breadth and depth of inventory, frequent delivery and value-added services to tire and automotive service customers.

Additional information can be found at www.herculestire.com.