Hercules® Roadtour® Family Grows
April 15, 2015
---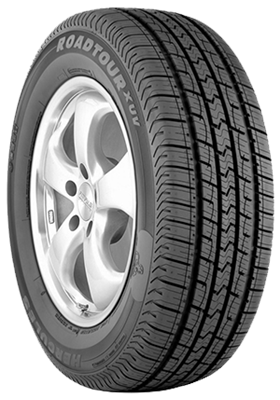 Popular offering adds sizes, expands fitments
FINDLAY, OHIO, April 15, 2015 - With low rolling resistance, a quiet ride and dependable all-season performance, Hercules Tires' Roadtour brand tires have become a popular choice for passenger and CUV fitments. Now available everywhere are seven new sizes in the Hercules Roadtour family, which is comprised of the Roadtour655 touring tire and the RoadtourXUVSUV/Crossover tire.
The RoadtourXUV, engineered specifically for CUVs, features options ranging from 16 to 19 inches, with a limited mileage warranty up 60 thousand miles.  New RoadtourXUV sizes accommodate popular vehicles such as the Hyundai Santa Fe, Subaru Tribeca, and Lexus RX350. Size additions include:
235/55R19 XL 105H
265/60R18 110T
235/60R18 XL 107H
255/55R18 XL 109H
"Our Roadtour products are very popular with our dealers because consumers can easily understand the long list of benefits they get from the tire," said Steven Liu, director of consumer product marketing for Hercules Tires. "Plus, there's excellent profit potential with the product and our dealers can feel confident that their customers will be returning for another set of Hercules Tires."
The Hercules Roadtour655 will now include a total of 38 SKUs with the addition of the following sizes: 
225/65R16 100T
205/65R16 95H
195/55R16 87V
The Roadtour655 line up offers V-, H-, T- and S-rated options with 14 to 17 inch rim diameters and up to 60 thousand miles limited warranty protection. Both the Roadtour655 and the RoadtourXUV have industry leading road hazard protection and are part of the 30 day trust our ride test drive.
The seven new Roadtour sizes are now available worldwide.
About Hercules Tires
Hercules Tires is widely recognized as the industry's premier value brand with a comprehensive selection of passenger, UHP, light truck, medium truck, trailer, off-the-road, industrial and specialty tires. Since 1952, independent tire dealers and distributors have trusted Hercules to deliver outstanding quality, exceptional support, and unsurpassed value.
Hercules is a wholly owned subsidiary of American Tire Distributors, Inc.  American Tire Distributors is one of the largest independent suppliers of tires in the North American replacement tire market. The company offers an unsurpassed breadth and depth of inventory, frequent delivery, and value-added services to approximately 72,000 customers across the U.S. and Canada. 
Additional information can be found at www.herculestire.com.