Hercules Expands H-Series H-402 Offering
March 2, 2015
---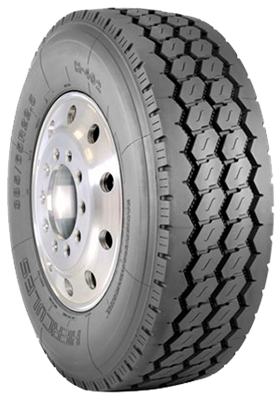 More fitments, more sales with tough 20-ply mixed service
FINDLAY, OHIO,  March 2, 2015 – The Hercules H-402 wide base mixed service tire, part of Hercules' H-Series medium truck tire line-up, is now available in a 20-ply 445/65R22.5. Appropriate for highway or mixed surface driving in all weather conditions, the H-402 provides resistance to rapid wear from cutting, chipping and tearing, giving it outstanding durability at high speeds. Aggressive wide base grooves help prevent stone trapping, reducing casing damage due to stone drilling and, thereby, promoting higher yield recaps.  
"We put this tire to the test to see how much it can offer and it surpassed all of our expectations. The H-402 is one tough tire and a tremendous value. This additional size will enable our customers to capture additional dump, cement, refuse, municipal and other wide base fitments," said Pat Tripp, director of TBR product and purchasing for Hercules Tire.
The H-402 carries a limited warranty of 60 months coverage against defects in workmanship or material, with a replacement period of 50 percent original tread life if the tire becomes unserviceable due to workmanship or material defects.
The new Hercules H-402 size is now available globally.
About Hercules Tires
Hercules Tires is widely recognized as the industry's premier value brand with a comprehensive selection of passenger, UHP, light truck, medium truck, trailer, off-the-road, industrial and specialty tires. Since 1952, independent tire dealers and distributors have trusted Hercules to deliver outstanding quality, exceptional support, and unsurpassed value.
Hercules is a wholly owned subsidiary of American Tire Distributors, Inc.  American Tire Distributors is one of the largest independent suppliers of tires in the North American replacement tire market. The company offers an unsurpassed breadth and depth of inventory, frequent delivery, and value-added services to approximately 72,000 customers across the U.S. and Canada. 
Additional information can be found at www.herculestire.com.