Ironman® I-Series Size Additions
February 23, 2015
---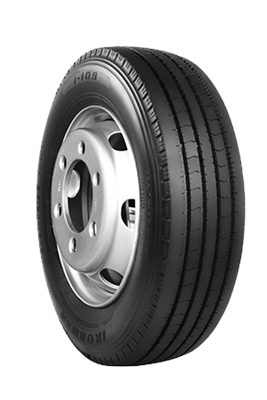 Eight SKUs added to all-position offering
FINDLAY, OHIO, February 23, 2015 – Hercules® Tire is pleased to announce the addition of eight SKUs to its Ironman I-Series I-109 EcoFT™ and I-109 lines, including a tubeless LT7.50R16/14 commercial all-steel construction offering. Suitable for application in all wheel positions, the I-109 EcoFT and I-109 regional all-position tires feature a five-rib solid shoulder design which yields:
• Increased mileage 
• Maximum stability to alleviate abnormal wear in all positions
• Non-decoupling wear resistance in regional steer axle use
"These key sizes represent a great deal of new opportunity for our dealers," said Pat Tripp, director of TBR product and purchasing for Hercules Tire. "The new I-109 EcoFT sizes are designed for steer axle usage in high-scrub, regional service applications, but can be used in all wheel positions. And, with EcoFT compound, these tires are equally suited for on-highway service application with the same vehicular unit."
Ironman I-109 EcoFT additions are produced with Hercules' exclusive EcoFT compound and part of the EPA SmartWay® verified technologies of low rolling resistance tires. They include:
• 11R22.5/14 
• 11R22.5/16 
• 11R24.5/14 
• 11R24.5/16
• 295/75R22.5/14 
• 295/75R22.5/16 
• 285/75R24.5/14
The Ironman I-109 tubeless, all-steel offering in a commercial LT7.50R16/14 replaces the previous tube type version, negating the need for a tube and yielding a cooler running, longer-wearing tire in all service applications. The new I-109 SKU is constructed with a standard compound (not SmartWay verified).
continued
The new Ironman I-109 EcoFT SKUs and now available and the I-109 tubeless, all-steel tire will be available later this quarter.
An associate brand of Hercules Tires, the Ironman brand offers an appealing balance of quality and economy. The Ironman brand family of tires includes passenger, light truck, medium truck, OTR, agricultural, specialty and industrial lines.

                                          About Hercules Tires
Hercules Tires is widely recognized as the industry's premier value brand with a comprehensive selection of passenger, UHP, light truck, medium truck, trailer, off-the-road, industrial and specialty tires. Since 1952, independent tire dealers and distributors have trusted Hercules to deliver outstanding quality, exceptional support, and unsurpassed value.
Hercules is a wholly owned subsidiary of American Tire Distributors, Inc.  American Tire Distributors is one of the largest independent suppliers of tires in the North American replacement tire market. The company offers an unsurpassed breadth and depth of inventory, frequent delivery, and value-added services to approximately 72,000 customers across the U.S. and Canada. 
Additional information can be found at www.herculestire.com.