Hercules® Tire Introduces the Raptis® R-T5 All-Season UHP
June 15, 2015
---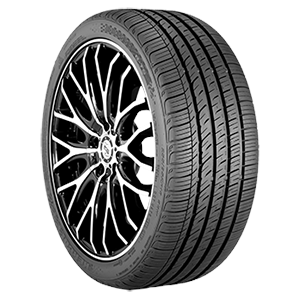 New premium tire shifts perspective on Tier 3 performance offerings
FINDLAY, OHIO, June 15, 2015 – Hercules Tire today introduced a product that will change the perception of what a value brand performance tire can deliver - the all new Hercules® Raptis® R-T5 all-season UHP tire. Intelligently designed, and constructed with advanced materials and technology, the 500 AA A UTQG-rated Hercules Raptis R-T5 delivers top-of-the-line traction, incredible control, and longer wear.
"The Raptis R-T5 has technology and materials that are found in Tier 1 and Tier 2 products. That's why our testing shows that it can go head-to-head with top sellers in those tiers," said Jedd Emans, vice president of marketing for Hercules Tire. "We went all-in with the Raptis R-T5. This is a tire that really showcases the value that Hercules delivers."
The innovative features and valuable benefits of the Hercules Raptis R-T5 include:
High-grade silica tread compound and Hercules EvacuTrack™ grooves for better wet traction
3D UltraWave™ siping and an asymmetric tread design for greater control and tighter handling
CoolCourse™ temperature control system to optimize performance and enhance tire life
500 AA A UTQG – the highest traction grading possible
A 45,000 mile/75,000 km limited warranty, industry-leading road hazard protection and the 30-day Trust Our Ride test drive program
Featuring an aggressive low-profile design, the line consists of 38 W-rated sizes in 17 to 20 inch rim diameters and accommodates such popular sports cars and sport sedans as: Audi A4, BMW 3-series, Chevrolet Camaro, Dodge Challenger, Ford Mustang GT, Ford Fusion, Infiniti G37, Lexus IS 250, Nissan 370Z, Subaru Impreza, Volkswagen GTi and Volvo S60.
"We feel that the Hercules Raptis R-T5 will be an outstanding differentiator for our dealers and one with great profit potential. No other product in its class comes close to the performance and peace-of-mind – ultimately the value – that the Raptis R-T5 delivers," Mr. Emans added.
The Hercules Raptis R-T5 will be available in the U.S. in July. For complete product information, visit www.herculestire.com/R-T5.
About Hercules Tires
Hercules Tires is widely recognized as the industry's premier value brand with a comprehensive selection of passenger, UHP, light truck, medium truck, trailer, off-the-road, industrial and specialty tires. Since 1952, independent tire dealers and distributors have trusted Hercules to deliver outstanding quality, exceptional support, and unsurpassed value. 
Hercules is a wholly owned subsidiary of American Tire Distributors, Inc.  American Tire Distributors is one of the largest independent suppliers of tires in the North American replacement tire market. The company offers an unsurpassed breadth and depth of inventory, frequent delivery, and value-added services to approximately 72,000 customers across the U.S. and Canada. 
Additional information can be found at www.herculestire.com.