Hercules Announces Increased Production of Ironman® All Country® M/T
October 26, 2015
---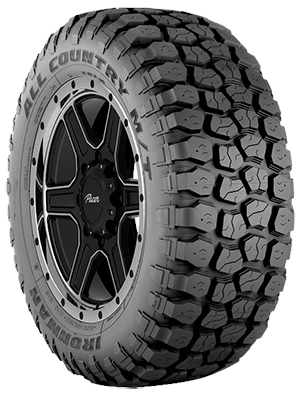 Off-road line offers high durability, popular enthusiast sizes
FINDLAY, OHIO, October 26, 2015 – Hercules Tire announced increased production of its Ironman All Country M/T off-road tire to meet the demand created by its introduction at the 2014 SEMA Show. The All Country M/T delivers outstanding off-road traction in the most adverse conditions and excellent durability in extended off-road use. All sizes of the tire will be available in the first quarter of 2016.
"We introduced the Ironman All Country M/T at SEMA 2014 to great reception, and in the past year we have been thrilled about the persistent demand for the product line," said Jedd Emans, vice president of marketing for Hercules Tires. "We released the All Country M/T to provide an off-road tire that combined performance, aesthetic appeal, and affordability, and we have ramped up production of all sizes to meet consumer demand."
Performance attributes of the Ironman All Country M/T include:
Groove design enhances durability by protecting against stone drilling and puncture
Shoulder blocks easily shovel away mud, silt, and sand and provide side-biting traction on off-road surfaces
Staggered buttress design increases off-road capability and guards against high sidewall cuts and abrasions
Void ratio effectively promotes self-cleaning capability in muddy conditions
The Ironman All Country M/T is available in 16 sizes with 15-20 inch rim diameters, including popular enthusiast sizes such as 37x12.5R17 and 35x12.5R20. In addition, a studdable tread delivers extra "bite" in severe weather applications and select sizes have a 3-ply sidewall to protect against cutting and tearing in off-road situations.
An associate brand of Hercules Tires, the Ironman brand offers an appealing balance of quality and economy. The Ironman brand family of tires includes passenger, light truck and medium truck lines.
"When dealers, media, and enthusiasts visit us at SEMA, they will see a diverse portfolio of offerings that provides performance, durability and value across product segments," Emans continued. "We will be highlighting the Ironman All Country M/T as a key part of our portfolio for 2016."
About Hercules Tires
Hercules Tires is widely recognized as the industry's premier value brand with a comprehensive selection of passenger, UHP, light truck, medium truck and specialty tires. Since 1952, independent tire dealers and distributors have trusted Hercules to deliver outstanding quality, exceptional support, and unsurpassed value.
Hercules is a wholly owned subsidiary of American Tire Distributors, Inc. American Tire Distributors is one of the largest independent suppliers of tires in the North American replacement tire market. The company offers an unsurpassed breadth and depth of inventory, frequent delivery, and value-added services to approximately 72,000 customers across the U.S. and Canada. 
Additional information can be found at www.herculestire.com.