Hercules® Tire Highlights New Products in SEMA Booth #43079
October 26, 2015
---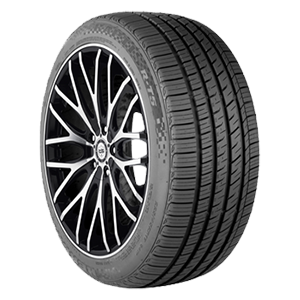 FINDLAY, OHIO, October 28, 2015 – Hercules Tire is pleased to showcase its latest offerings at the 2015 SEMA Show in Las Vegas. Hercules will be located in Booth #43079, where the company will be featuring new consumer lines such as the ultra-high performance Hercules Raptis® R-T5, all new medium truck tire offerings, and new sizes in popular existing Hercules products.
"SEMA 2015 provides us a fantastic opportunity to show dealers, consumers and the media what Hercules has been up to in the last year – and I know our latest offerings will generate a lot of interest," said Jedd Emans, vice president of marketing for Hercules Tire. "We are excited to show off the Raptis R-T5, which delivers the performance consumers expect from a Tier 1 or Tier 2 product, but with the value and profit potential dealers have come to expect from Hercules Tires."
A premium all-season UHP tire, the Raptis R-T5 is designed and constructed with advanced materials and technology, delivering superior control, enhanced wear-resistance and an AA UTQG traction grading - the highest possible.
The company will also be previewing its Hercules Roadtour® 855 SPE all-season touring tire, which will complete the company's premium family of offerings when it is launched in early 2016.
In addition to featuring the Raptis R-T5 and the Roadtour 855 SPE, Hercules will be showcasing:
Three new Hercules H-series medium truck tires, including the brand's first medium truck drive tire designed specifically for winter use and an Ultra-Premium Long Haul Decoupling Groove Steer tire
The Ironman® GR906 all-season touring tire, an entry-level offering with tread elements that minimize noise and increase stability and high-density siping that enhances wet and snow traction
Three new Ironman I-Series medium truck tire patterns – two new all-position tires (I-402 Wide Base Mixed Service A/P and I-502 Premium Deep Tread A/P), and one for trailer applications (I-480 Trailer Rib).
Three new sizes of the popular Hercules H-901 highway all steel commercial LT/ST offering. The H-901 is now available in LT225/75R16/12, LT245/75R16/12, and ST225/90R16/14 (metric equivalent to the 7.50R16).
"Hercules has a truly diverse portfolio of products, which includes high performance and incredible value," said Emans. "At the SEMA show, Hercules will have something compelling to share with dealers, media, and enthusiasts  alike, and we can't wait to participate in the event."
About Hercules Tires
Hercules Tires is widely recognized as the industry's premier value brand with a comprehensive selection of passenger, UHP, light truck, medium truck and specialty tires. Since 1952, independent tire dealers and distributors have trusted Hercules to deliver outstanding quality, exceptional support, and unsurpassed value.
Hercules is a wholly owned subsidiary of American Tire Distributors, Inc. American Tire Distributors is one of the largest independent suppliers of tires in the North American replacement tire market. The company offers an unsurpassed breadth and depth of inventory, frequent delivery, and value-added services to approximately 72,000 customers across the U.S. and Canada. 
Additional information can be found at www.herculestire.com.