New Ironman® Brand iMOVE® Gen2 AS
June 21, 2016
---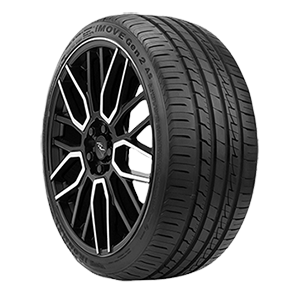 Hercules Introduces New Ironman® Brand iMOVE® Gen2 AS All-Season
UHP - New entry-level tire offers enhanced treadwear, 22 new sizes 
FINDLAY, OHIO, June 20, 2016 – Hercules Tire is pleased to introduce the new Ironman iMOVE Gen2 AS entry-level all-season UHP tire. The next generation of the popular Ironman iMOVE, the iMOVE Gen2 AS delivers enhanced tread life and aesthetic appeal in a line consisting of 61 T-, H-, V- and W-rated sizes covering 14 to 22 inch wheel diameters. Twenty-two of the 61 SKUs are new sizes not covered in the original iMOVE line-up.
"We did a great job of balancing the new features of the iMOVE Gen2 AS with those that made its predecessor so popular," said Jedd Emans, vice president of marketing for Hercules Tire. "Our customers will be excited at the evolution of the iMOVE and the range of new sizes available to them."
 The new design and construction of the iMOVE Gen2 AS features:
An asymmetric tread design that provides enhanced traction and responsive handling in wet and dry conditions
New generation, wear-resistant compound that improves durability for extended tread life
Enhanced tread block geometry and siping placement to increase grip and minimize road noise
Improved pressure distribution, which promotes even wear and extended tread life
Circumferential and longitudinal grooves that maximize water evacuation to minimize hydroplane risk 
The iMOVE Gen2 AS joins the Ironman passenger line-up alongside the recently introduced GR 906 tire, which offers all-season touring performance in 31 T-, H- and V-rated sizes.
"The popularity of our Ironman brand is taking off because it capably meets the demand for economically priced tires with good quality and appealing aesthetics," said Emans. "Plus, not many entry-level tires are backed by a company with the reputation and long-standing history of Hercules."
Fifty sizes of the new iMOVE Gen2 AS are now available in the U.S. and will be introduced to the market as iMOVE inventories are exhausted. The balance of the SKUs is slated for availability in late 2016.
Complete sizes and specifications for the Ironman iMOVE Gen2 AS are available at herculestire.com. 
About Hercules Tires
Hercules Tires is widely recognized as the industry's premier value brand with a comprehensive selection of passenger, UHP, light truck, medium truck and specialty tires. Since 1952, independent tire dealers and distributors have trusted Hercules to deliver outstanding quality, exceptional support, and unsurpassed value.
Hercules is a wholly owned subsidiary of American Tire Distributors, Inc. American Tire Distributors is one of the largest independent suppliers of tires in the North American replacement tire market. The company offers an unsurpassed breadth and depth of inventory, frequent delivery, and value-added services to approximately 72,000 customers across the U.S. and Canada. 
Additional information can be found at www.herculestire.com.