Greg Wilson Racing Kicks Off 2016 World of Outlaws Tour with Hercules Tire
March 3, 2016
---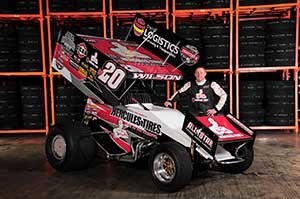 Hercules is key sponsor for Wilson's first full Outlaws season
FINDLAY, Ohio, March 3, 2016 – Hercules Tire today announced the company's multi-year sponsorship contract with Greg Wilson racing. This announcement follows Wilson's December announcement that he will be running the World of Outlaws Craftsman Sprint Car Series in full in 2016.
Wilson's first full Outlaws season kicked off at Volusia Speedway in Barberville, Fla. His next stop is March 3-4 at The Dirt Track at Las Vegas in Las Vegas. Hercules is a primary sponsor of the Greg Wilson Racing Team, which will compete in over 90 World of Outlaws events around the country in 2016, Wilson's first full season on the tour.  
"Hercules Tire has been a key partner in my move to a full-time World of Outlaws schedule," said Greg Wilson. "We are going to compete over 90 times this year on tour, and with the backing of Hercules and my other sponsors, I know we will be competing to win at the highest level, night in and night out."
Hercules Tire's Strongman logo will be featured prominently on Wilson's w20 car, as well as his racing suits, crew uniforms, trailer and driver's merchandise. In addition to a busy racing schedule on the World of Outlaws tour, Greg will visit Hercules Tires dealers throughout the racing season. As an accomplished and highly visible Sprint car star, Wilson is a major draw for fans at events on and off the track.
"Hercules Tire and the Greg Wilson Racing Team have fostered a fantastic partnership over the years, and we are thrilled to see Greg embark on a full year with the World of Outlaws," said Jedd Emans, vice president of marketing for Hercules Tire. "In addition to his impressive skill on the track, Greg also brings the type of Northwest Ohio work ethic and values to the tour that we at Hercules truly cherish. He is an asset not only to the World of Outlaws Series but to Hercules and our dealers as he helps increase visibility for Hercules on the biggest stage in Sprint car racing.  We are pleased to support his continued success."
Greg Wilson is regarded as one of the most accomplished and popular Sprint car drivers in the country. He has won over 100 Sprint car features and is two-time All-Star Circuit of Champions Sprint Car Points Champion. Wilson has raced in the All-Star Circuit of Champions, World of Outlaws, United States Auto Club, NRA Sprint Invaders, Midwest Open Wheel Association, Interstate Racing Association and American Sprint Car Series.
Editors' Note: To schedule interviews with Greg Wilson, please contact Julie Pompa at 419.351.2132 or jpompa@communica.world.
About Greg Wilson 
Racing to Greg Wilson is not a hobby; it is his living and a lifelong passion that started at the age of five when he began racing go-karts. His family provided his first experience in a sprint car at the age of 15. He remained in the family car until he had a chance to drive for his Uncle Bob Hampshire in the popular #63 sprint car. Greg later joined with Warnimont Motorsports in 2006, and in 2014 he made the decision to form Greg Wilson Racing and take over ownership of the team. Greg's racing experience in dirt and pavement ranges from Winged Sprints, Non-wing Sprints, USAC Silver Crown, and Modifieds. He has enjoyed success at all levels and his accomplishments are numerous.
Greg resides in Benton Ridge, Ohio with his wife Mackenzie and daughters Lilli and Alivia. A winner of over 100 Sprint car features, he is considered to be one of the most elite, popular and well-respected Sprint car drivers throughout the country by both the fans and his peers.
Additional information can be found at www.gregwilsonracing.com.
About Hercules Tires
Hercules Tires is widely recognized as the industry's premier value brand with a comprehensive selection of passenger, UHP, light truck, medium truck and specialty tires. Since 1952, independent tire dealers and distributors have trusted Hercules to deliver outstanding quality, exceptional support, and unsurpassed value.
Hercules is a wholly owned subsidiary of American Tire Distributors, Inc. American Tire Distributors is one of the largest independent suppliers of tires to the replacement tire market. It operates over 140 distribution centers, including 27 distribution centers in Canada, serving approximately 70,000 customers across the U.S. and Canada. The company offers an unsurpassed breadth and depth of inventory, frequent delivery, and value-added services to tire and automotive service customers.  
Additional information can be found at www.herculestire.com.