Hercules Tire to Sponsor Sarah Burgess in 2016 Lucas Oil Off Road Racing Series
March 9, 2016
---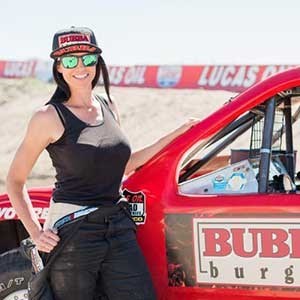 Burgess, only female driver in the series, will be running Hercules® Terra Trac® D/T tires
FINDLAY, Ohio, March 9, 2016 – Hercules Tire announced today the company's sponsorship of Sarah Burgess, an up-and-coming driver on the 2016 Lucas Oil Off Road Racing Series (LOORRS). Burgess will be racing in the 97 truck, equipped with 265/75R16 Hercules Terra Trac D/T tires, in the Pro Lite class. 
Burgess is currently the only female driver on the 2016 LOORRS. She finished 22nd in the series in total points in 2015, her rookie year. The 2016 series begins and ends in Chandler, AZ, from March through October. In addition to California, the series includes stops in Arizona, Utah, and Nevada.
"Sarah has built an impressive career in motorsports, from building cars to managing race teams to driving and competing at the highest levels of drift and dirt racing," said Jedd Emans, vice president of marketing for Hercules Tire. "We are proud to sponsor an up-and-coming off-road star, and help her compete at the highest level on Hercules Terra Trac D/T tires."
Burgess was born in Queensland, Australia, where she began a diverse sporting career at a very young age. Beginning when she was five years old, Sarah has competed in BMX racing, triathlons, cycling, kayaking and inline and short track speed skating. In 2000, she found her passion for the automotive industry on a business trip to the United States. She has driven in drift car, rallycross and now off road series – often as the only female on the track.
The Hercules Terra Trac D/T is a premium multi-purpose traction tire that is perfect for off-road racing. Its lateral channel grooves, aggressive shoulder design, and beveled tread block edges provide uncompromised traction under tough conditions, and the deep tread provides consistent performance on the track.  
"Sarah will be a great ambassador for Hercules because she will demonstrate how the Terra Trac D/T performs under tough conditions while competing at the highest level of off-road racing," Emans said. "This increased brand recognition will be fantastic for Hercules and our Hercules dealers."
About Hercules Tires
Hercules Tires is widely recognized as the industry's premier value brand with a comprehensive selection of passenger, UHP, light truck, medium truck, trailer, off-the-road, industrial and specialty tires. Since 1952, independent tire dealers and distributors have trusted Hercules to deliver outstanding quality, exceptional support, and unsurpassed value.
Hercules is a wholly owned subsidiary of American Tire Distributors, Inc. American Tire Distributors is one of the largest independent suppliers of tires in the North American replacement tire market. The company offers an unsurpassed breadth and depth of inventory, frequent delivery, and value-added services to approximately 72,000 customers across the U.S. and Canada. 
Additional information can be found at www.herculestire.com.