Hercules Broadens Ironman® Brand Offering with New All Country® CHT
November 7, 2016
---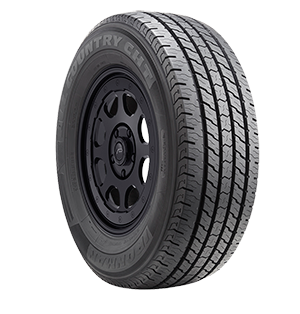 Entry-level commercial highway traction rib gives dealers a whole new card to play
FINDLAY, OHIO, November 7, 2016 – Hercules Tire is pleased to announce the Ironman All Country CHT commercial highway traction rib tire – the newest enhancement to the Ironman Tires line-up. It is the first commercial highway tire to be offered under the Ironman brand name, and it joins existing mud terrain and all terrain tires in the All Country family of SUV and Light Truck tires. 
"We've been broadening the Ironman offering over the past couple of years to make the brand a complete solution for our dealers – so they always have an Ironman brand tire to do the job. The expansion has been very thoughtful and tied directly to what we are hearing from our customers, and as such, it's been very successful," said Jedd Emans, Hercules Tire's vice president of marketing. 
Designed for the frequent starts, stops and turns of commercial vehicles, the durable M+S rated All Country CHT offers:  
A continuous shoulder rib that fights irregular wear, helps increase tread life and improves steering response
A robust buttress and sidewall to protect against curbside abrasions and scuffing
An optimized tread pattern that reduces noise for a more comfortable ride
Even wear and increased stability on a variety of road surfaces
Commercial grade construction and compounding to ensure durability and longevity
The entry-level Ironman All Country CHT is available in 11 LT-designated sizes covering 16 to 18 inch wheel diameters. 
The All Country CHT is currently available in the U.S. through American Tire Distributors (ATD) and will soon be available in Canada and Latin American, through National Tire Distributors (NTD) and Hercules Tire International respectively.
An associate brand of Hercules Tires, the Ironman brand offers an appealing balance of quality and economy. The Ironman brand family of tires includes passenger, light truck and medium truck lines.
About Hercules Tires
Hercules Tires is widely recognized as the industry's premier value brand with a comprehensive selection of passenger, UHP, light truck, medium truck and specialty tires. Since 1952, independent tire dealers and distributors have trusted Hercules to deliver outstanding quality, exceptional support, and unsurpassed value.
Hercules is a wholly owned subsidiary of American Tire Distributors, Inc. American Tire Distributors is one of the largest independent suppliers of tires in the North American replacement tire market. The company offers an unsurpassed breadth and depth of inventory, frequent delivery, and value-added services to approximately 72,000 customers across the U.S. and Canada. 
Additional information can be found at www.herculestire.com.