Hercules® Tires Congratulates Greg Wilson on 2016 Rookie of the Year Award
November 15, 2016
---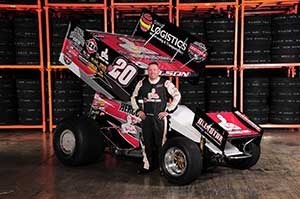 FINDLAY, OHIO, November 14, 2016 - Hercules Tires is thrilled to congratulate Greg Wilson on his 2016 World of Outlaws Craftsman Sprint Car Series Kevin Gobrecht Rookie of the Year Award. This honor capped off a nine-month tour with the Outlaws and an 11th place overall finish for the season. 
"It has been rewarding, and incredibly fun, to watch Greg's first year with the World of Outlaws," said Jedd Emans, vice president of marketing for Hercules Tires. "When he joined the tour, we knew his Northwest Ohio work ethic and values would be an asset to the Outlaws. We have had a fantastic partnership with the Greg Wilson Racing Team over the years, and we can't wait for the next season to begin." 
Wilson ran all 85 races in the Outlaw's 2016 schedule, which took the team from Florida to California, through the Midwest, and into Canada.
When he wasn't preparing for a race, racing, or spending time with his family, Wilson and his w20 sprint car made appearances at open houses and events to help drive business to Hercules Tires dealers and increase the visibility of the Hercules brand. 
"The World of Outlaws has made me feel welcome from the moment I joined," said Wilson. "Ever since I was a little kid, I wanted to drive sprint cars. Thanks to the tour's incredible support of my family and me, and thanks to the great partnership I have through the Hercules Tires sponsorship, I've been able to have my dream come true. I'm grateful for this award, and I'm looking forward to an even stronger, more exciting season next year."  
About Hercules Tires
Hercules Tires is widely recognized as the industry's premier value brand with a comprehensive selection of passenger, UHP, light truck, medium truck and specialty tires. Since 1952, independent tire dealers and distributors have trusted Hercules to deliver outstanding quality, exceptional support, and unsurpassed value.
 Hercules is a wholly owned subsidiary of American Tire Distributors, Inc. American Tire Distributors is one of the largest independent suppliers of tires in the North American replacement tire market. The company offers an unsurpassed breadth and depth of inventory, frequent delivery, and value-added services to approximately 72,000 customers across the U.S. and Canada. 
Additional information can be found at www.herculestire.com.
Note to media: For visuals from Wilson's season with the Outlaws, please click here: https://www.youtube.com/watch?v=U4dj0HSbhhE