New Ironman® Brand RB-12 NWS All-Season Touring Tire Available
November 7, 2016
---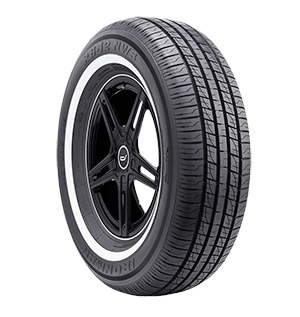 Brand's white sidewall offering gets a fresh look, familiar name
FINDLAY, OHIO, November 9, 2016 – Hercules Tire today announces the availability of the all new Ironman RB-12 NWS all-season touring tire, an entry-level offering featuring a classic white sidewall design. The new tire replaces the current white wall tire, the Ironman Touring Pro, and offers enhancements to ride comfort and wet traction, as well as a wider, more eye-catching white band.  
"Introducing the RB-12 NWS allows us to do a few important things with our white wall offering," said Jedd Emans, Hercules Tire's vice president of marketing. "We can offer a distinct, classic look with a cleaner, more modern tread pattern and we can incorporate newer technologies into the design and construction to give it better performance. Finally, we felt strongly about rolling our white wall offering under the RB-12 moniker since our RB-12 products have enjoyed so much success."
The Ironman RB-12 NWS is available in nine sizes – all with a white sidewall – covering 14 and 15 inch wheel diameters. Features include: 
A computer-optimized tread design that reduces road noise
A square tread profile for maximum contact area and handling stability
All-season compound that enhances wet traction and durability
Lateral shoulder slots to ensure water dispersion and promote heat dissipation 
The Ironman RB-12 NWS is currently available in the U.S. through American Tire Distributors (ATD) and will soon be available in Canada via National Tire Distributors (NTD) and in Latin America, through Hercules Tire International.
An associate brand of Hercules Tires, the Ironman brand offers an appealing balance of quality and economy. The Ironman brand family of tires includes passenger, light truck and medium truck lines.
About Hercules Tires
Hercules Tires is widely recognized as the industry's premier value brand with a comprehensive selection of passenger, UHP, light truck, medium truck and specialty tires. Since 1952, independent tire dealers and distributors have trusted Hercules to deliver outstanding quality, exceptional support, and unsurpassed value.
Hercules is a wholly owned subsidiary of American Tire Distributors, Inc. American Tire Distributors is one of the largest independent suppliers of tires in the North American replacement tire market. The company offers an unsurpassed breadth and depth of inventory, frequent delivery, and value-added services to approximately 72,000 customers across the U.S. and Canada.