Hercules® Announces Size Additions to the Ironman® All Country® M/T Offering
August 10, 2017
---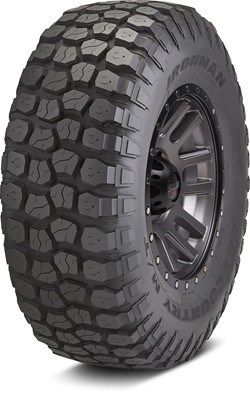 Popular, highly durable tires now in 37-inch sizes, 22 inch wheel diameters
FINDLAY, OHIO, August 8, 2017 – Hercules Tire today announces new sizes of the Ironman brand All Country M/T –  four load range E flotation offerings up to 37-inches overall and with up to 22-inch wheel diameters. The Ironman All Country M/T delivers outstanding off-road traction in the most adverse conditions, excellent durability in extended off-road use and a studdable tread for extra bite.
"The All Country M/T has been well-received by both daily drivers and enthusiasts. It's an incredibly durable and highly versatile tire at an entry-level position, which means this tire has a lot going for it," said Jedd Emans, vice president of marketing for Hercules Tires.
Ironman All Country M/T size additions for are:
50R20/10 126Q
50R20/10 127Q
50R22/10 117Q
50R22/10 123Q
Notable features of the Ironman All Country M/T include:
Groove design enhances durability by protecting against stone drilling and puncture
Shoulder blocks easily shovel away mud and silt, and enhance traction on off-road surfaces
Staggered buttress design increases off-road capability and guards against high sidewall cuts and abrasions
Void ratio effectively promotes self-cleaning capability in muddy conditions
The All Country M/T will be available in the U.S. and Canada, via ATD and NTD respectively, as well as through Hercules Tire International.
As an associate brand of Hercules Tires, Ironman tires offer an appealing balance of quality and economy. The Ironman brand product breadth includes passenger, light truck and medium truck lines.
About Hercules Tires
Hercules Tires is widely recognized as the industry's premier value brand with a comprehensive selection of passenger, UHP, light truck, medium truck and specialty tires. Since 1952, independent tire dealers and distributors have trusted Hercules to deliver outstanding quality, exceptional support, and unsurpassed value.
Hercules is a wholly owned subsidiary of American Tire Distributors, Inc. American Tire Distributors is one of the largest independent suppliers of tires to the replacement tire market.  It operates over 140 distribution centers, including 27 distribution centers in Canada, serving approximately 70,000 customers across the U.S. and Canada.  The company offers an unsurpassed breadth and depth of inventory, frequent delivery and value-added services to tire and automotive service customers.  
Additional information can be found at www.herculestire.com.