Hercules® Delivers Two More Terra Trac® AT II Options
July 26, 2017
---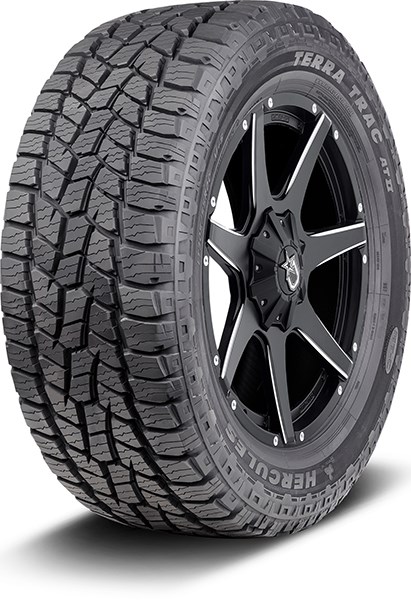 Two additional LRE sizes for a total of six new SKUs in 2017
FINDLAY, OHIO, July 26, 2017 – Hercules Tire is pleased to announce the availability of two new SKUs of the brand's Terra Trac AT II premium all-terrain light truck tire. The 18 and 20 inch LRE additions join four others introduced earlier in 2017. The two newest offerings are:
LT265/70R18/10 124/121S OWL 
LT265/60R20/10 121/118R BSW
"These additions bring us to 61 total SKUs for this line. This is a versatile tire – the size line-up should be as well," said Jedd Emans, vice president of marketing for Hercules Tire.
The Hercules Terra Trac AT II delivers aggressive aesthetics, outstanding wear resistance and the ultimate in traction thanks to heavy siping and Hercules' exclusive silica-infused AT-C compound. All SUV and LT sizes offer 60,000 mile/100,000 km coverage, industry-leading road hazard protection, and Hercules' 30-day Trust Our Ride Test Drive.
The Terra Trac AT II along with the Terra Trac M/T mud terrain and Terra Trac T/G Max commercial traction tires comprise the Terra Trac Traction Series, a complete light truck line-up that offers drivers precise performance and traction, whether they're driving on the job, on the trails, or on the road. All Traction Series tires come with Hercules' Road Hazard Protection Program, which promises free replacement for two years or the first 50% of tread life if a tire fails due to a road hazard during on-road use.
The new sizes will be available in the US, Canada and Australia through American Tire Distributors, National Tire Distributors, and Hercules Tire International respectively.
Complete information about the Terra Trac AT II can be found at herculestire.com/traction.
 About Hercules Tires
Hercules Tires is widely recognized as the industry's premier value brand with a comprehensive selection of passenger, UHP, light truck, medium truck and specialty tires. Since 1952, independent tire dealers and distributors have trusted Hercules to deliver outstanding quality, exceptional support, and unsurpassed value.
Hercules is a wholly owned subsidiary of American Tire Distributors, Inc. American Tire Distributors is one of the largest independent suppliers of tires to the replacement tire market. It operates over 140 distribution centers, including 27 distribution centers in Canada, serving approximately 70,000 customers across the U.S. and Canada. The company offers an unsurpassed breadth and depth of inventory, frequent delivery and value-added services to tire and automotive service customers.