Hercules® Bumps Up Mileage Coverage on Longtime Favorite
July 7, 2017
---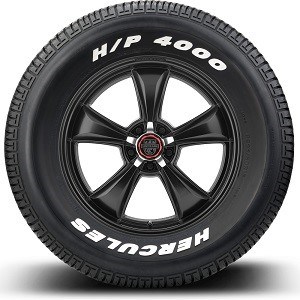 H/P 4000 gets more coverage, bigger value
FINDLAY, OHIO, July 7, 2017 – Hercules Tire today announced that its time-tested cosmetic UHP tire – the Hercules H/P 4000 – will now carry 50,000 miles (80,000 km) of treadwear coverage, up from the 40,000 miles (65,000 km) it offered previously. This enhancement to the Limited Protection Policy covering the tire joins changes made at the beginning of 2017, including Road Hazard Protection that now provides free replacement up to two years or 50 percent treadwear and Workmanship and Materials coverage offering free replacement to 50 percent tread life.
"The H/P 4000 has been a dependable, long-lasting tire in our line-up," said Jedd Emans, vice president of marketing for Hercules Tire. "I guess you could say we're giving credit where credit is due by upping the mileage coverage by 25 percent. For most drivers, that's a whole additional year of coverage and peace of mind."
With raised white lettering (most sizes) and a low-profile, the Hercules H/P 4000 is an attractive addition to classic muscle cars, both vintage and modern. The H/P 4000 is available throughout the U.S. and Canada.
About Hercules Tires
Hercules Tires is widely recognized as the industry's premier value brand with a comprehensive selection of passenger, UHP, light truck, medium truck and specialty tires. Since 1952, independent tire dealers and distributors have trusted Hercules to deliver outstanding quality, exceptional support, and unsurpassed value.
Hercules is a wholly owned subsidiary of American Tire Distributors, Inc. American Tire Distributors is one of the largest independent suppliers of tires to the replacement tire market. It operates over 140 distribution centers, including 27 distribution centers in Canada, serving approximately 70,000 customers across the U.S. and Canada. The company offers an unsurpassed breadth and depth of inventory, frequent delivery and value-added services to tire and automotive service customers.