Hercules® Tire Expands Terra Trac® Cross-V™ Size Offerings
July 14, 2017
---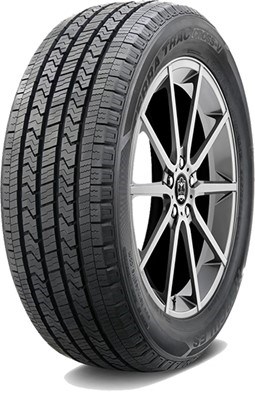 Hercules brand Terra Trac Cross-V delivering versatility to broader audience
FINDLAY, OHIO, July 12, 2017 – Hercules Tire announces four new sizes now available for the brand's Terra Trac Cross-V premium CUV/SUV/LT tire. The Terra Trac Cross-V boasts a sophisticated tread design, all-weather traction and an advanced silica tread compound, making it more than capable of delivering outstanding ride comfort, superior handling and exceptional wear resistance.
"We're pleased to once again expand the size offerings of the Terra Trac Cross-V line. This is a tire that offers exceptional versatility, which is how it earned its reputation for best-in-class all-road performance," said Jedd Emans, Hercules Tires' vice president of marketing.
New sizes in the Terra Trac Cross-V line-up are:
265/70R18 116T
265/60R18 110T
255/55R18XL 109H
235/55R19XL 105H
The Terra Trac Cross-V delivers mileage coverage up to 70,000 mi/112,000 km, unmatched Road Hazard Protection up to two years or the first 50 percent of tread life, and Hercules' exclusive 30-day Trust Our Ride Test Drive. The line now offers 36 sizes covering 16 to 20 inch wheel diameters.
"Having Terra Trac Cross-V's on your vehicle means being able to go from dodging pot holes in the city to experiencing excellent responsiveness on the highway, and not having to think twice about traction on dirt, gravel or snow covered roadways," Emans said. "The sense of security a driver feels with Terra Trac Cross-V tires is unmatched."
About Hercules Tires
Hercules Tires is widely recognized as the industry's premier value brand with a comprehensive selection of passenger, UHP, light truck, medium truck and specialty tires. Since 1952, independent tire dealers and distributors have trusted Hercules to deliver outstanding quality, exceptional support, and unsurpassed value.
Hercules is a wholly owned subsidiary of American Tire Distributors, Inc. American Tire Distributors is one of the largest independent suppliers of tires to the replacement tire market.  It operates over 140 distribution centers, including 27 distribution centers in Canada, serving approximately 70,000 customers across the U.S. and Canada.  The company offers an unsurpassed breadth and depth of inventory, frequent delivery and value-added services to tire and automotive service customers.  
Additional information can be found at www.herculestire.com.