Hercules® Tire Announces Additional Sizes of Roadtour® 855 SPE
June 27, 2017
---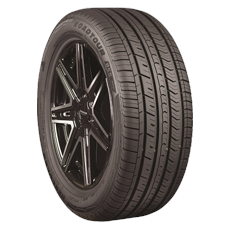 FINDLAY, OHIO, June 26, 2017 – Hercules Tire is pleased to announce that the Roadtour 855 SPE grand touring tire, launched last spring, is now available in three new sizes. The all-season Hercules Roadtour 855 SPE boasts innovative features and high-quality materials to deliver safety, reliability and comfort – along with up to 85,000 miles of coverage, Road Hazard Protection up to two years or the first 50 percent of tread life, and Hercules' exclusive 30-Day Trust Our Ride Test Drive.
"The Roadtour 855 SPE is the premier tire in our Hercules Roadtour Series – and for good reason. This premium touring tire mixes equal parts sophisticated design, high-quality materials and innovative technologies," said Jedd Emans, vice president of marketing for Hercules Tires. "We're proud to be able to expand the size offering for this exceptional tire and continue to provide drivers with extraordinary value."
The new size additions for summer 2017 include:
215/45R17XL 91V
225/45R17 91H
245/50R20 102H
The high-quality Roadtour 855 SPE ensures stability, traction and comfort by incorporating the latest technologies, such as an asymmetric tread design, both 3D and full-depth siping, and an advanced silica tread compound.
The new Roadtour 855 SPE sizes come on the heels of the Hercules Roadtour 455 launch and the introduction of seven new sizes in the Raptis® R-T5 all-season UHP line-up. New sizes are now available in the U.S. and Canada. Additional information on the Hercules Roadtour 855 SPE and the entire Roadtour Series is available at herculestire.com/roadtourseries.