Hercules® Tires Expands Roadtour® Series with Addition of the Roadtour 455 and Roadtour 455 Sport All-Season Touring Tires
June 1, 2017
---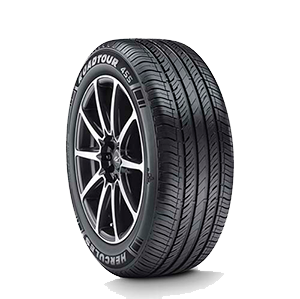 FINDLAY, OHIO, June 1, 2017 – Today Hercules® Tires announces the expansion of their Roadtour® Series with the Roadtour 455, a new all-season touring tire, which joins the popular Roadtour 655 MRE premium touring tire and Roadtour 855 SPE grand touring tire. This expansion allows for a broader selection of tires that will appeal to the needs of every family member and every budget.
"The Roadtour 455 provides practical performance inside and out," said Jedd Emans, vice president of marketing for Hercules Tires. "With this tire, dealers can now offer a full range of options to consumers. This is an affordable touring tire appropriate for a wide range of vehicles."
The Roadtour 455 is equipped with a design and construction that delivers performance, security and accessibility including:
Strategically placed full depth siping - Recurring full depth sipe areas provide flexibility while maintaining overall stability for greater grip and even wear.
Optimized pitch sequence - Four-pitch sequence delivers reduced road noise for a quieter ride.
Solid center rib - Center rib promotes crisp handling and driver comfort, and as it wears it becomes solid to provide added stability and grip.
Profile shape - An updated design optimizes surface contact with the road for increased traction and tread life.
The Roadtour 455 is available in 33 T- and H-rated sizes covering wheel diameters from 14 to 18 inches, making it the perfect fit for more consumers' vehicles. The Roadtour 455 accommodates popular fitments including: Chevy Cruze, Ford Focus, Toyota Corolla and Buick LeSabre.

The Hercules Roadtour 455 is available in a Sport version as well, which shares many of the Roadtour 455's design features, but offers a more aggressive appearance and asymmetric tread design. The Roadtour 455 Sport features five additional V-rated sizes in 17- to 19-inch wheel diameters suited for performance-oriented vehicles.
Like the other tires in the Roadtour Series, the Roadtour 455 features generous mileage coverage— 50,000 mi/80,000 km for T-rated sizes and V/H-rated sizes are backed by 45,000 mi/75,000 km of coverage. All tires in the Roadtour Series offer Road Hazard Protection and Hercules' exclusive 30-Day Trust Our Ride Test Drive.

"At Hercules, we are very invested in creating value for our independent tire dealers, and their customers. We truly believe that the Roadtour 455 rounds out the Roadtour Series perfectly, delivering drivers an excellent ride at an exceptional value and generating additional pathways to profitability for dealers," said Emans.

Complete product details can be found at herculestire.com/roadtourseries.

About Hercules Tires

Hercules Tires is widely recognized as the industry's premier value brand with a comprehensive selection of passenger, UHP, light truck, medium truck and specialty tires. Since 1952, independent tire dealers and distributors have trusted Hercules to deliver outstanding quality, exceptional support, and unsurpassed value.

Hercules is a wholly owned subsidiary of American Tire Distributors, Inc. American Tire Distributors is one of the largest independent suppliers of tires to the replacement tire market. It operates over 140 distribution centers, including 27 distribution centers in Canada, serving approximately 70,000 customers across the U.S. and Canada. The company offers an unsurpassed breadth and depth of inventory, frequent delivery, and value-added services to tire and automotive service customers.

Additional information can be found at www.herculestire.com.