Hercules Adds Sizes to Ironman brand I-480 Trailer Rib
November 21, 2017
---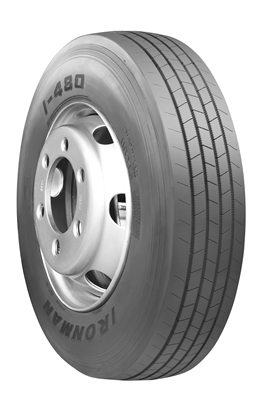 I-Series continues to expand
FINDLAY, OHIO, October 23, 2017 - Hercules Tire is pleased to announce the addition of six sizes to the Ironman I-480 trailer rib offering. Joining the 11R24.5/14 and 11R24.5/16 already in the marketplace are the following sizes:
· 11R22.5/14 144/142M
· 11R22.5/16 148/145M
· 295/75R22.5/14 144/141M
· 295/75R22.5/16 146/143M
· 285/75R24.5/14 147/144M
· 285/75R24.5/16 147/144L
The Ironman I-480 is appropriate for short and long haul trailer applications and features a five-rib tread pattern to deliver long mileage and shoulder wear resistance, as well as solid shoulders and wide grooves to ensure excellent wet and dry traction.
Most SKUs are now available through American Tire Distributors in the U.S. and through National Tire Distributors in Canada. Complete specifications can be found at www.herculestirecommercial.com.
An associate brand of Hercules Tires, the Ironman brand offers an appealing balance of quality and economy. The Ironman brand family of tires includes passenger, light truck, medium truck, OTR, agricultural, specialty and industrial lines.
Hercules Tires is widely recognized as the industry's premier value brand with a comprehensive selection of passenger, UHP, light truck, medium truck, specialty trailer and specialty commercial tires. Since 1952, independent tire dealers and distributors have trusted Hercules to deliver outstanding quality, exceptional support and unsurpassed value.
Hercules is a wholly owned subsidiary of American Tire Distributors, Inc. American Tire Distributors is one of the largest independent suppliers of tires to the replacement tire market. It operates over 140 distribution centers, including 27 distribution centers in Canada, serving approximately 70,000 customers across the U.S. and Canada. The company offers an unsurpassed breadth and depth of inventory, frequent delivery and value-added services to tire and automotive service customers.
Additional information can be found at www.herculestire.com.