Hercules® Tire Introduces New Specialty Commercial Tires
September 18, 2017
---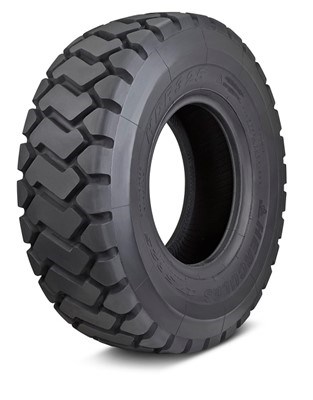 Small OTR and Industrial Tires Now Available
Findlay, Ohio, Sept. 6, 2017 – Today, Hercules® Tire introduces an all-new lineup of specialty commercial tires to be available across the U.S. The new product line will consist of a robust offering of Skid Steer, Backhoe, Compact Utility, Small Bias OTR and Small Radial OTR tires. This is the first time Hercules brings its trusted name to the industrial and OTR segments.
"This year, we are celebrating the 65th year of the Hercules brand – a brand that dealers and consumers have relied on for quality, value, versatility and performance," said Jedd Emans, vice president of marketing for Hercules Tires. "We have been expanding and refining our medium truck offerings over the last several years. Moving into the specialty commercial category seemed like a natural evolution for us."
The first available product in the lineup is the Hercules HDR 325 Radial E3/L3 Loader. Available in 17.5 to 23.5 inch widths, the HDR 325 tire offers:
Cut- and chip-resistant compounding to promote optimum performance and wear;
An E3/L3 tread design for superior traction and stability, and
Dependable performance in both construction and quarry applications.
The lineup will be available at American Tire Distributors (ATD) locations throughout the U.S. and play a key role in ATD's approach to serving the specialty commercial market.
"In all, 14 different product styles will be introduced," said Emans. "We are excited to share our exceptional quality and value with a new market, and look forward to communicating updates as additional products reach our dealers."
The new products will be branded under the Hercules or Hercules by Solideal moniker. Hercules by Solideal products offer a five year limited protection policy covering defects in workmanship or materials. Complete product information can be found at www.herculestirecommercial.com.
About Hercules Tires
Hercules Tires is widely recognized as the industry's premier value brand with a comprehensive selection of passenger, UHP, light truck, medium truck, specialty commercial and specialty trailer tires. Since 1952, independent tire dealers and distributors have trusted Hercules to deliver outstanding quality, exceptional support, and unsurpassed value.
Hercules is a wholly owned subsidiary of American Tire Distributors, Inc. American Tire Distributors is one of the largest independent suppliers of tires in the North American replacement tire market. The company offers an unsurpassed breadth and depth of inventory, frequent delivery, and value-added services to approximately 72,000 customers across the U.S. and Canada.
Additional information can be found at www.herculestire.com