Hercules Tire Expands Ironman I-Series for Medium Trucks in Canada
January 22, 2018
---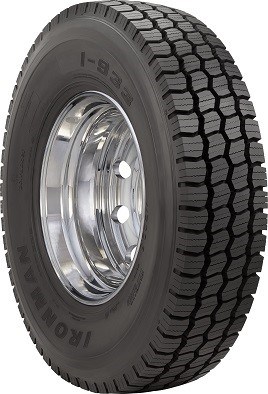 I-302 and I-933 Meet Customer Needs for Severe Service and Winter Offerings
FINDLAY, OHIO, Jan. 22, 2018 - Hercules Tire announces two new Ironman brand I-Series medium truck tires for the Canadian marker in direct response to dealer demand. Addressing the need for severe service and winter driving applications, the I-302 and I-933 are now available in Canada exclusively through National Tire Distributors (NTD). Complete specifications can be found at www.herculestirecommercial.com.
"The Canadian market has very specific needs due to harsh winters and the industries prospering in the country. Our dealers asked for quality tires positioned at an entry-level price point and Ironman was a natural answer to address their needs," said Jedd Emans, vice president marketing, Hercules Tire.
The I-302 Deep Drive tire is designed for demanding apllications such as logging and mining where on- and off-road environments demand maximum durability and where traction is a necessity. The I-302 is available in sizes 11R22.5/16 148/145J and 11R24.5/16 149/146J.
Additional features of the Ironman I-302 Deep Drive tire include:
Large tread blocks and 32/32nds tread depth for performance and durability
Strong casing and specially formulated that resists cuts and chips
The I-933 Winter Drive tire features an open shoulder design that evacuates precipitation without sacrificing traction or performance.  Sizes available include 11R22.5/16 148/145L and 11R24.5/16 149/146L. 
The Ironman I-933 carries a three-peak mountain snowflake (3PMSF) designation and also offers:
Biting edges for traction on slippery road surfaces
Liberal siping to enhance grip in both wet and dry conditions
Specially formulated compound that balances excellent tread life and good mileage
The Ironman brand, an associate brand of Hercules Tires, offers a balance of quality and economy. The Ironman brand family of tires includes passenger, light truck and medium truck lines.
About Hercules Tires
Hercules Tires is widely recognized as the industry's premier value brand with a comprehensive selection of passenger, UHP, light truck, medium truck, specialty trailer and specialty commercial tires. Since 1952, independent tire dealers and distributors have trusted Hercules to deliver outstanding quality, exceptional support and unsurpassed value.
Hercules is a wholly owned subsidiary of American Tire Distributors, Inc. American Tire Distributors is one of the largest independent suppliers of tires to the replacement tire market.  It operates over 140 distribution centers, including 27 distribution centers in Canada, serving approximately 70,000 customers across the U.S. and Canada.  The company offers an unsurpassed breadth and depth of inventory, frequent delivery and value-added services to tire and automotive service customers.  
Additional information can be found at www.herculestire.com.