Hercules Launches Strong Guard H-LS Long Haul Steer Tire
September 19, 2022
---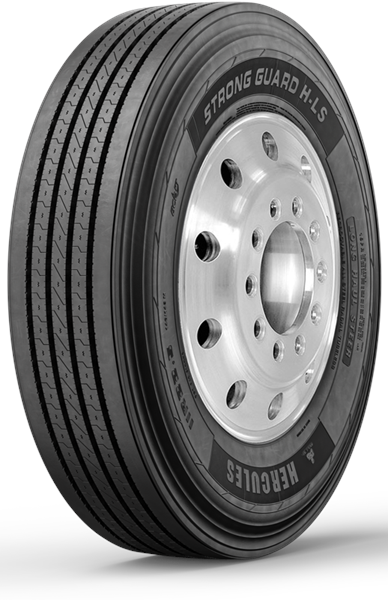 Hercules Tire and Rubber Company (HTR), a subsidiary of American Tire Distributors (ATD), today announced the launch of its Strong Guard® H-LS tire, a premium steer tire for long-haul and super-regional highway applications. The tire is now available to ATD's approximately 80,000 customers nationwide, including HTR's 3,500 program dealers in the United States.
The Strong Guard® H-LS, which replaces the Hercules H-804, has a premium casing with a four steel-belt package offering increased fuel efficiency, better mileage and a generous retread policy. It provides 5% better rolling resistance and 10% better mileage than its predecessor, as well as upgraded warranty coverage. The H-LS was created with EcoFT technology giving it enhanced low rolling resistant properties which surpass SmartWay verified standards.
The new tire is offered in four 22.5" and 24.5" SKUs, all of which are all 16 ply.
"The launch of the Strong Guard H-LS completes the core lineup of Strong Guard medium truck tire series," said Marshall Gillespie, ATD's director of commercial merchandising, proprietary brands. "This steer tire is built to provide a blend of long, even tread life and maximum fuel efficiency bringing confidence to owner operators and fleets driving the long haul.
Other features and benefits of the tire include:
Balanced Compounds – Allows for increased tread life without compromising fuel efficiency.
Optimized Footprint – Provides uniform pressure distribution improving tread life, vehicle handling and vehicle stability under load.
Lateral Sipes – Cuts through water, providing more traction in wet conditions.
Groove Technology – Maximizes tear resistance while ejectors minimize stone retention.
Decoupling Grooves – Help resist the onset of irregular wear in long-haul applications.
Backed by the Hercules Performance Promise, the tires have an 84-month limited protection policy. If the tire is not serviceable due to flaws in workmanship or materials, Hercules will replace it at no charge during the first 50% of tread life. The Strong Guard H-LS tire also carries a casing allowance for three retreads.
Hercules also offers commercial dealers the opportunity to earn volume bonus rebates, access to unique promotions, the ability to earn dealer incentive trips, marketing support and access to product training by signing on to the Hercules Flex Program. A unique program in the industry as it includes Hercules Ag, Industrial and OTR products at different levels of commitment allowing flexibility to fit commercial dealer business needs.
Celebrating 70 years in the tire industry this year, Hercules continues to build on its strategy of providing its customer base in the US and Canada with a steady stream of new products, enabling it to be a true a one-stop shop for passenger light truck and commercial tire needs.
Earlier this year, Hercules launched its first tire UTV tire, the TIS UT1 by Hercules, and its first tire for the agricultural market, the AG-TRAC RT45 radial R-1W, designed for four-wheel- and mechanical front-wheel-drive (MFWD) tractors. In May, it announced its new Strong Guard® H-MA tire, a premium mixed-service, all-position commercial tire and in June, the Strong Guard® ST tire, a premium, high-speed radial specialty trailer tire.