Hercules® Tire Introduces Two Premium Light Truck Offerings
September 7, 2016
---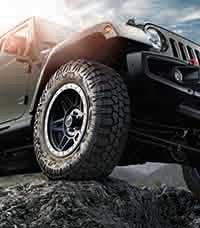 Hercules brand Terra Trac® M/T and Terra Trac T/G Max prove that Tough Runs in the Family
FINDLAY, OHIO, September 7, 2016 –Hercules Tire today announced two additions to the brand's Terra Trac family of tires, which has long been helping dealers gain traction with their light truck tire sales.  The all new Terra Trac M/T mud terrain and the Terra Trac T/G Max commercial traction tires are purpose-built for distinctly different but equally rugged applications, and both feature unmatched on-road Road Hazard protection up to two years or 50 percent treadwear, and Hercules' exclusive 30-day Trust Our Ride test drive.
"These are two more tires that exemplify Hercules' promise to deliver extraordinary value. The Terra Trac M/T and Terra Trac T/G Max are high-quality, great-looking products with unbeatable warranties that offer our dealers great profit potential and differentiation," said Jedd Emans, Hercules Tires' vice president of marketing.
The Hercules Terra Trac M/T and Terra Trac T/G Max share a number of features that enable them to perform at a high level both on and off the road, including variable full-depth siping, stone release features and tread compound formulations optimized for a myriad of on and off-road applications. 
Each tire was then further refined to accommodate its own unique, hard-working features – creating distinctly different tires made for specific applications and environments.
Hercules Terra Trac M/T
"I would call the Terra Trac M/T a 'modern mud tire' because it's designed for high performance both on and off the road. Most drivers with mud tires spend the majority of their time on paved roads, not trails. This tire is designed for the way consumers really drive," said Emans.
Features exclusive to the Terra Trac M/T:
An exclusive Hi/Lo tread design incorporates a higher void-to-rubber ratio on the outside of the tire for aggressive off-road traction, with a tighter center rib section for better on-road stability and reduced road noise.
Stud pins in the tread allow for enhanced winter traction and control.
A reversible camouflage sidewall design gives an aggressive, head-turning appearance.

Large shoulder scallops provide superior off-road traction and rough terrain grip while enhancing soft surface traction.
Twenty-one (21) sizes in 15 to 20-inch wheel diameters - including popular enthusiast sizes - to satisfy both hard-core off-roaders and casual trail riders.
Hercules Terra Trac T/G Max
"The Terra Trac T/G Max is uniquely designed to tackle challenging and hazardous work environments, from gravel-strewn construction sites to muddy farm fields," said Emans. "But even with all its tough features, it offers excellent all-season highway performance. This tire is the best of both worlds."
Additional features of the Terra Trac T/G Max:
Silica-infused cut and chip resistant compound resists damage while providing better wear and wet traction. 
A deep 18.5/32nds tread depth powers through the most extreme conditions to get maximum performance from work site vehicles.  
A square profile design optimizes surface contact for maximum traction and tread life.
An aggressive upper shoulder delivers enhanced abrasion resistance and an open design creates biting edges for excellent off-road traction.
Availability in 15 LT and flotation sizes covering 15 to18-inchh wheel diameters. 
Terra Trac Traction Series
The Terra Trac M/T and Terra Trac T/G Max, together with the popular Terra Trac AT II all-terrain tire, comprise the Terra Trac Traction Series, a complete light truck line-up that offers drivers precise performance and traction, whether they're driving on the job, on the trails, or on the road.
"We introduced the Terra Trac Traction Series to help dealers guide their customers into the right tire for their needs. Because, while they share some characteristics, each tire is designed and built for specific applications. So choosing the best tire for the job is important to getting top performance," said Emans.
Complete product details can be found at http://www.herculestirecommercial.com/traction/.

Both of the new lines will be available globally. The Hercules Terra Trac M/T and select sizes of the Hercules Terra Trac T/G Max are available for order.